Realizing sustainable housing in Amsterdam for elderly people with a need for care and support. That is the ambition of Amstelring. In December, Amstelring and the Apollo Zorgvastgoedfonds signed the contract for the realization of Eyckstaete. Residential care complex Eyckstaete is a building for vital elderly, where they can grow, even if they eventually need care and support. There will also be apartments for people who already have a (significant) need for care and support. And there will be a number of homes especially for care workers of Amstelring. The facilities in the lower part of the building will meet the needs of both the residents and the neighborhood.
Eyckstaete: not just any residential care location
The residential care location of the future is characterized above all by connection. Connection between inside and outside, between old and young, between accessibility and involvement. The connection makes the difference in loneliness, in reciprocity, in making a difference. And thus has a great impact on the last years of life.
"Those last years of a person's life should be a reflection of the life that has been lived. Where own habits and beautiful memories can be. The world is getting smaller, so the living environment becomes more important. Eyckstaete meets those conditions," explained Inge Borghuis and Jeroen Lambiks, directors of Amstelring. "Amstelring offers care, support and guidance in the residential care location and in the neighborhood."
Building for the future of IJburg
In IJburg district teams and nurses of Amstelring are already active. However, there is no residential care location on IJburg yet, while in the Amsterdam region there is a great shortage of places for vulnerable elderly people who need 24-hour care and support. In 2025 about 600 extra places are needed for people with a heavy demand for care. In 2050 there will be about 1400 people aged 65 and older living in IJburg. Eyckstaete can meet the demand for care of today and of the future.
Michel van Oostvoorn, on behalf of the Apollo Zorgvastgoedfonds, adds, "To create a building that, through its programming, adds value to the environment and responds to the urgent demand for housing for the elderly and care workers is an excellent opportunity. It will also be a sustainable building, modular and circular. It will fit in with the current and future requirements of the residents of IJburg. We are very happy with the cooperation with Amstelring to realize this building".
Jacqueline Donga
Amstelring - press information
Hartelt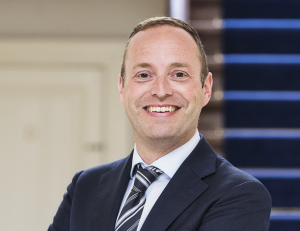 Michel van Oostvoorn
Apollo Healthcare Property Fund - Director Investments
Hartelt
Parties involved
The specialist knowledge of the parties is the strength of the collaboration
Amstelring provides high quality care to people at home and at care locations.
DGMR offers innovative solutions for a sustainable, safe and healthy living environment.
Architectural firm SeARCH is a specialist in the design and construction of sustainable, circular and modular buildings.
HEVO is responsible for the development and realization of (care) buildings suitable for elderly people and/or people with a need for care.