Maastricht, January 14th 2020 – The Apollo Healthcare Property Fund and healthcare provider Noorderbreedte have reached agreement on the new construction of 'De Zuidlanden' residential care complex in Leeuwarden. A modern building with 96 apartments is being built in the Goutum-Zuid district for the complex care of vulnerable elderly people. After completion of the new construction, Noorderbreedte will become the tenant of the building and will focus on providing care to residents.
Noorderbreedte, the Apollo Healthcare Property Fund and HEVO have developed 'De Zuidlanden' residential care complex in close cooperation. The current and future wishes and needs of residents, employees and visitors of the residential care complex have been mapped out and included in the design during the development process. Michel van Oostvoorn, portfolio manager at the Apollo Healthcare Property Fund, is pleased with the acquisition. "For Apollo, investing in a residential care center fits in perfectly with the growing demand for suitable forms of housing and care for the elderly."
"This is a conscious choice," said Noorderbreedte director Saskia van Opijnen. "We want to concentrate primarily on what we are good at and that is providing complex care to vulnerable elderly people. That is why we have chosen an investor specialized in housing for the elderly and people with a care need. In addition, we strive for a more differentiated real estate portfolio in order to run less financial risk."
Atmospheric homely appearance and design
Noorderbreedte has developed a living concept whereby all residents get their own living / sleeping studio, their own bathroom and with shared living and living facilities. The design takes into account maximum freedom of movement and safety. The concept is in line with the ambition to turn every day into a valuable day in the well-being and health of residents. The exterior is fully integrated into the residential area and looks like regular housing. HEVO is responsible for the development and realization of the new building. Local residents were informed about the new construction plans in July. Construction is expected to start in the summer of 2020 and completion in 2021.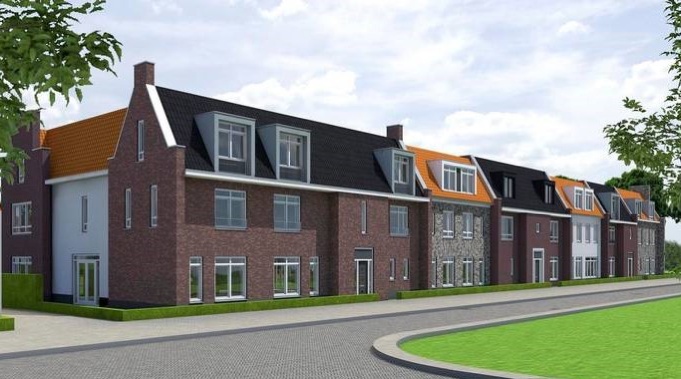 Contact:
Victor Gulickx, Fund manager Apollo Healthcare Property Fund
Mobile: +31 (0) 6 25 18 80 70
E-mail: v.gulickx@hartelt-fm.com
Michel van Oostvoorn, Portfolio manager Apollo Healthcare Property Fund
Mobile: +31 (0)6 50 99 90 76
E-mail: michel.van.oostvoorn@hartelt-fm.com
About the Apollo Healthcare Property Fund
The Apollo Healthcare Property Fund was launched at the end of June 2016. The Fund invests in high-quality, sustainable and affordable care housing and facilities that benefit the welfare of the resident and user. The Fund focuses on three segments of the Dutch healthcare market: Assisted living, Nursing home and Care and treatment centres. Assisted living offers housing to people who live independently with a combination of care, services and well-being. Nursing homes focus on people with intensive care needs. This could include people with a severe psychogeriatric (including dementia) and / or somatic condition. Care and treatment centres offer space to a range of primary healthcare providers, including general practitioners, physiotherapist and a pharmacist.
More information: www.hartelt-fm.com/funds/apollo-healthcare-property-fund/
About Hartelt Fund Management
Hartelt Fund Management is a boutique fund management company founded in 2013. We serve professional investors by structuring and managing innovative investment funds that are based on long-term demographic, social and technological trends. Our team consists of highly experienced professionals with a strong track record in managing real assets investment funds. As a boutique we are very focused and have a strong alignment with our clients. Hartelt has offices in Maastricht and Amsterdam and is regulated as an AIFM by the Dutch Authority for the Financial Markets ('AFM').
More information: www.hartelt-fm.com
https://www.hartelt-fm.com/wp-content/uploads/2020/01/Impression-De-Zuidlanden.png
379
681
Beheerder
https://www.hartelt-fm.com/wp-content/uploads/2020/09/Hartelt_logo_web_500px_blanco.png
Beheerder
2020-01-15 14:05:02
2020-01-15 14:05:02
Apollo Healthcare Property Fund reaches agreement on the realization of nursing home 'De Zuidlanden' in Leeuwarden